Restoration body gaskets for Chrysler, Dodge, Plymouth and AMC.

Our next show...
Midwest Mopars in the Park Farmington, IN May 30-31, 2015

NEW! Our own line of firewall and kickpanel insulation!
Correct shape and fit. MANY more versions than had previously been available.
B Body 66-67 and 68-70 Non AC Firewall Insulation - they are different
A Body 63-64 and 65-66
B Body 62-65
C Body 65-68 and 69-71
Detroit Muscle Technologies IS the manufacturer, not a reseller.
We make Mopar body restoration gaskets using the most correct materials, most accurate shape using modern CAD, laser, waterjet and cutting technologies. We manufacture every gasket to fit the way we would expect for our own cars. Each has been reverse engineered using the original gasket as a reference and test fit on the actual part that the gasket is for. Our line of products includes but is not limited to.........
MEGA restoration gasket sets - exterior/paint, firewall, heater box, splash shields, weatherstripping, firewall & kickpanel insulation, under dash shoddy pad, mega body plug and bumper kit
Paint / Body gasket sets - all exterior gaskets
Firewall gasket sets - all interior gaskets, A/C and NON A/C
Misc / Individual Gaskets - Lock, Antenna, Door Handle, Steering Column, Axle, etc.
Heater box restoration gasket kits - A/C and NON A/C
Woodgrain & carbon fiber overlays - console and dash vinyl overlays

Note: Till we fully populate our store, all our products can be found on our DMT Ebay Store

As of July, 2013, we are in our new larger building!
Mega Splash Shield Sets
Complete sets of all the masticated rubber items under the front fenders (Note: all may not apply to your year/model);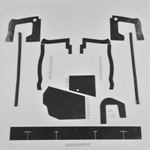 67 Coronet example shown here
-rear splash plate top shield and extruded rubber side strips
-headlight splash shields
-radiator air deflector splash shields (not shown)
-frame rail splash shields (not shown in this set)
-engine well access opening splash shields
-starter/auto trans linkage splash shields
-lower splash pan shield

Show schedule
WPC Club - Great Lakes Region Annual Winter Swap
Mt Clemens, MI - Jan 25, 2015
Walter P Chrysler Club Inc. - Great Lakes Region
Monster Mopar WON'T BE ATTENDING THIS YEAR
Indianapolis, IN March 4-5, 2015
Midwest Mopars in the Park
Farmington, IN May 30-31, 2015
Spots TBD
CEMA Show at the Walter P Reuther Museum
Rochester, MI June 7, 2015
Carlisle All Chrysler Nationals
Carlisle, PA July 10-12, 2015
Spots O113-118 Near the middle of the main entrance row
Mopar Nationals
Hebron, OH August 7-9, 2015
Monster Mopar
Norwalk, OH September 11-13, 2015
Mopars with Big Daddy Show
Ocala, FL November 1-2, 2015
Recommended Quality Vendors